With more than 100 quality products, Redline is one of the best car and bike oil brands in the industry today known for their cooling additive, motor oil, gear oil, assembly lubes, and WaterWetter, extensively used for automotive and marine maneuver.

Cars are the second most expensive investment most of us will ever make in our entire life. Apart from fulfilling all our transportation needs, cars are added luxury coming into the capitalist world. While they are guaranteed to last for decades, to seal the deal with the multi-utility vehicle you need to have them repaired and maintained regularly. From greasing, oiling, denting and paint-jobs, to other menial repairs - one has to understand that a car functions as a human body and needs proper lubrication with suitable oils.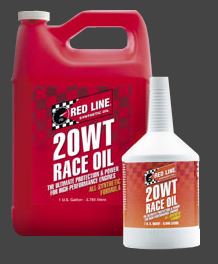 Don't blindly believe any given or advertised oil, since not all the oils are equally beneficial for your automobile. Getting an oil change used to be a simple thing, but since the inception of different types of engines - the same oil doesn't work for every engine system.

Trust Redline Oil Products - an extensive range of products formulated from fully-synthetic oils and chemically-advanced additives using the world's finest base stocks. Find superior stability at high temperatures and firm strength even when your automobile is producing high power, with Red Line's line of motor and gear oils.