Hawk Performance's leading-edge brake friction technology is proven everyday in severe-duty aerospace, military, commercial truck fleet, motorsports and performance street brake applications. Put the power in the brake pedal and specify Hawk Performance disc brake pads.
For information on Street Compounds, please see this page. For information regarding race compounds, please see this page.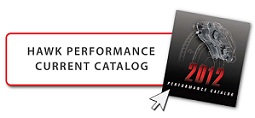 Off Line Racing can order ANY Hawk Brake pad that's available. If you don't see something you need in our regular catalog, download the Hawk Catalog in pdf format to find a pad for you. You can send us a pricing request through our Contact Form, and we will get back to you as soon as possible with a price.
--
Hawk Brake, a division of Wellman Friction Products Co., produces brake pads for many street vehicles and most formula / specialty race cars. Hawk's friction materials cover all braking needs; from street use, Autocross, Solo I & II, Showroom Stock road racing, to professional racing needs.
Hawk Performance brake pads are a direct result of responding to and working with key customers. This partnership in performance gives you proven designs, world-class manufacturing, and advanced materials that take heat from -30°F to 1400°F.
For over 75 years industry and consumers have been trusting Hawk for their severe duty braking and friction needs. Whether it's a 727 coming in for a landing, an open wheel racer negotiating a critical corner, or a school bus transporting our children...Hawk is there to meet...and exceed the demands.
Hawk's goal is to produce the highest quality brake pads in the marketplace. Hawk's On-Highway brake pads provide the safety, durability and stopping power that exceeds OEM standards. Proven over decades of research and development, by people as passionate about what they do as you are.
Hawk disc brake pads are manufactured in the United States us1ng the most sophisticated manufacturing processes available. Our recognition as an ISO 9001 manufacturer is proof that we are committed to developing the safest, most durable products available.